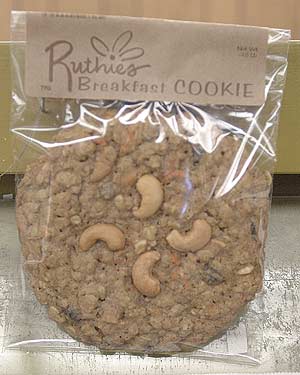 People have been raving about our breakfast cookies ever since their inception.  With my mom's name on it, I knew they would. 
Made with wholesome natural ingredients, we get away from the highly refined world of today.  Now you can have a quick breakfast option that you can feel good about. 
From our whole food ingredients, to the crunch of raw sugar, here is something for everyone.  We know you'll enjoy our healthy cookie as much as we do.  From tongue to toe, your body will thank you for it!
Dustin Dibala
Co-Owner/Ruthie's Son
"The discovery of this cookie while stuck in Cottage Grove, OR was the delight of the week.  We tried one and then went back and bought all the cookies the coffee place had in stock!  The best $2 I've ever spent."
Jalbertson, Rancho Cucamonga, CA.

What we say:
Baking up breakfast in Reedsport
By Ron Jackimowicz, Food editor
Inspiration comes in many forms. For Ruth Dibala, it came in the form of one of her customers at Back To The Best in Reedsport.
The coffee house/deli right on the highway sells smoked meats and jerky, as well as espresso - and best of all, cookies.
Seems this customer was packing on a few extra pounds while getting coffee and cookies at the drive-up window, and told her she needed to make a "healthy cookie."
"We brainstormed and came up with a some ideas," Dibala said. They came up with a list of natural ingredients: whole wheat flour, rolled oats, raw sugar, butter, cashews, raisins, carrots, eggs, wheat germ, honey, molasses, backing soda, spices, vanilla and salt.
She sent her customer back to work and set off to the kitchen to whip up a trial batch of cookies.
Some recipes take months or years to perfect. Numerous attempts end of in the round file, or just aren't good enough for anyone outside of family.
Not this one.
"This was our first cookie," Dibala said. "Our first attempt."
And thus, in a matter of minutes, Ruthie's Breakfast Cookie was born.
The first batch was a success, so Dibala began making the cookies and putting them on the counter at Back To The Best, and also sold them at her coffee stand in Florence. You'd know the coffee shop if you've driven through town. It's the one that looks like a log cabin with a giant wooden bear standing in front of it. The bear has a cup of coffee in one hand and a "breakfast cookie" in the other.
"It's been the response to the cookies at these shops that made me think I have something special here," Dibala said.
That was almost five years ago, and now Ruthie's Breakfast Cookie is a cottage industry. Dibala said she sells the cookies at nearly 100 locations between Lincoln City and Bandon along the coast and Albany, Corvalis and Roseburg inland.
The store bakes between 80 and 100 dozen breakfast cookies every week and Dibala has three routes that she services every other week.
"It's been an adventure," Dibala said. "I've been so tickled by the response to them."
Most of the locations where you can get Ruthie's Breakfast Cookies are coffee shops, but Dibala also has a few health stores, golf shops, and some 'mom and pop' stores on her list.
In Coos Bay, you can find them at First Stop Java, Monica's Gourmet Coastal Coffee Company, Cup O' Joe, The Grounds at Books By The Bay, Bailey's Health Food Center and the bookstore at Southwestern Oregon Community College.
So if you're blasting through Reedsport some morning and you're feeling a little hungry, but you also don't feel like a muffin or bagel, you now have an alternative.
"The world needed a healthy cookie to go with their coffee," Dibala said.
World Photo By Lou Sennick This is no lightweight cookie. Ruthie's Breakfast Cookie weighs in at 0.35 pounds (more than five ounces).
What they say:
"Try Ruthie's Breakfast Cookie; it's chock full of stuff that's good for you and it happens to taste terrific."
The Umpqua Posts 2006 Visitors Guide
"We recently visited Oregon and had the pleasure of tasting your Ruthie's Breakfast Cookie's. Wow..........We loved them!! If they are ever available for mail order, please let us know.
Sincerely, Karen
Loranger, LA